Cash Loans on your Jewelry
Do you need instant cash?
Do you have old jewelry that you don't use, but are not quite ready to sell?
Want to open a small business and need quick money without the credit check hassle?
Answer: Get an instant cash loan against your diamonds, gold, platinum and silver jewelry at only 5% interest per month.
At VA Gold Buyers store and Velasquez Jewelers, we offer the very best local rates when you borrow against your gold. You get a flexible and affordable loan, while your gold is kept safe and sound in our secure facilities.
What We Accept
We loan against gold jewelry, gold coins, platinum, silver,silver coins, bridal jewelry, fine watches (such as Rolex, Cartier, Ometga,etc.), antique jewelry, estate jewelry, silver bars, gold bars, broken jewelry, scrap gold or silver jewelry, silver tea and coffee sets and silver flatware. Basically any precious metal jewelry is accepted. (see full list)
We will then inspect & test all your jewelry in order to determine the total loan amount so you can receive your cash on the spot!
Collateral Loans
We also can give you instant cash on your cars (car title loans) and home (home equity loans). These also take minutes and you can walk out with cash in hand if you take out a loan against your house or a loan on your car. You can find out more at: www.Loans4YourGold.com
Benefits of Taking out a Gold Loan
Same Day Loan Disbursement – Loans given in as little as 5 minutes!
No credit check necessary
Safety of  Valuables – Rest assured with our secure vaults and high-tech security system.
Minimum Requirements: Only one valid ID necessary (ex. State Drivers's License or Passport)
No time-consuming formalities involved
Pay interest only for the exact period of loan (30 day loan terms that are renewable)
No surprises – No hidden fees
No processing fees
Free Estimates
Save money with us compared to bank interest rates and other loan sharks.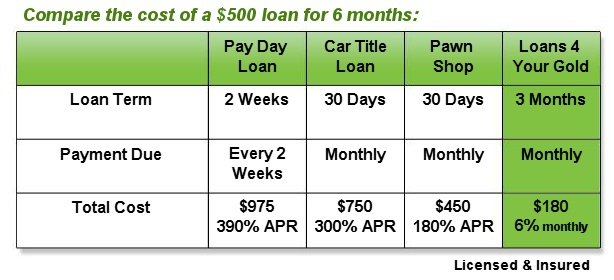 The chart above means that if you get a $500 loan with VA Gold Buyers or Velasquez Jewelers you end up paying us only $30 per month vs. $163 per month (with Payday Loans)!!
How to Apply
It's this simple:
Bring in your jewelry or precious metal valuables
Bring in a valid ID
Walk out with instant CASH!
Interest Rate & Fees
On gold loans (against your jewelry) : 5% monthly interest rate + 1% storage fee
For more information, please visit our sister site www.Loans4YourGold.com.
Payment Schedule
Every 30 days your loan payment will be due. You have a 15 day grace period from the due date, but a late fee of 1.5% will be administered. However, if you pay on time, there is no late fee and you just pay your monthly interest payment.
Any delays in payment more than 15 days from the due date will result in you forfeiting your property.
We are now accepting electronic loan payments via Venmo and Zelle. Be sure to enter your loan # and name in the payment description so we can apply your payment correctly.
To send payments via:
Venmo Account: 703-627-7759 or @CarlosA-Reyes
Zelle Account: 703-627-7759
If you don't know your loan number please call 703-444-7804 so we can give it to you.
Have more questions? Check out our FAQ page.